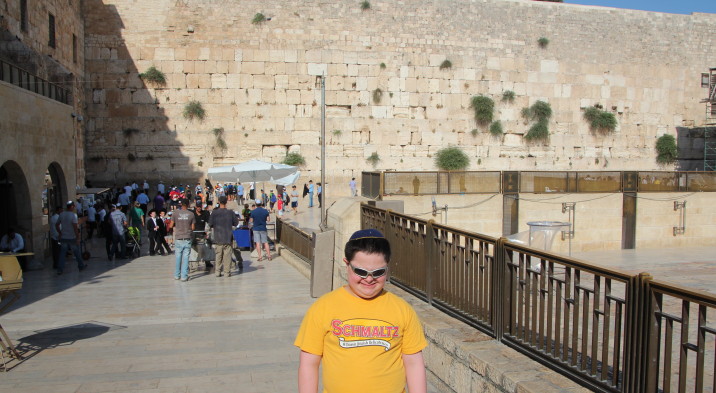 By Beth and Joel
On October 20, 2012 our son Jacob became an adult in the eyes of the Jewish people at the tender age of 13. Becoming a "Bar Mitzvah" (literally translated, "Son of the Commandment") is a rite of passage for Jewish boys who are entering their teen years. Preparing to become a Bar Mitzvah requires several years of study, including intensive preparation in the months leading up to the 90 minute Saturday morning service at the synagogue. It's a challenging undertaking for most boys and girls, but all the more so for Jacob, our beautiful boy with Down syndrome.
On that sunny morning, Jacob opened the eyes of many in attendance at Congregation Etz Chaim in the western suburb of Lombard when he recited the Sabbath prayers, read from the Torah for the first time, delivered a speech in which he told the meaning of his Torah portion, described his "Mitzvah" project and thanked those who helped him prepare for his big day. There were not many dry eyes left amongst the 180 people in the synagogue when Rabbi Steven Bob spoke of having presided over more than a thousand Bar and Bat Mitzvah children in his 32 years leading the Congregation, but none as determined as Jacob to reach this milestone.
Yes, Jacob was clearly determined at an early age to be a part of our local Jewish community. As a preschooler, he attended "Tot Shabbat" services once a month on Friday Sabbath evenings. Sunday school began at age six, marked by his singing of the cute "Little Torah" song with his classmates at the "consecration" service. His early lessons focused on bible stories and the Jewish holidays. At age eight he started learning the Hebrew letters which took him only a few months to memorize. When Jacob turned ten he joined the temple's junior choir to sing prayers with his peers — he learned quickly and usually sang louder than the other kids. That year he watched his sister Hannah become a Bat Mitzvah, and ever since would enter the sanctuary after Sabbath services to pretend it was his day to become a Bar Mitzvah. (Rabbi Bob noted that in fact Jacob wanted his job!) Jacob also decided he wanted a party much like Hannah's, and watched the video of both her service and party over and over again.
Jacob's preparation for his Bar Mitzvah began in earnest in early 2012. He was assigned to classes with his typically-developing peers but frequently preferred to be taught outside the classroom by a teen assigned to him for one-on-one instruction.  Rachel Wood, who oversaw his preparation, has tutored Bar and Bat Mitzvah students for over 25 years and was ideally suited to assist Jacob, given her long-time professional work experience at Clearbrook and Oak Leyden. Two of Jacob's young adult tutors returned home from college to attend his Bar Mitzvah.
Two significant events occurred in preparation for his Bar Mitzvah. In June 2012, our family went on an 11-day tour of Israel with three other families, including two from Etz Chaim, led by Anne Stein, our synagogue's Education Director. We were amazed by Jacob's ability to sustain interest in most of the activities during our fantastic tour, although he did snooze on the bus while we planted a kiwi tree a few feet from the Lebanese border. One great example of his tenacity was Jacob's willingness to trek over 40 minutes through the 2600-year-old water tunnels under the ancient city of Jerusalem.  They were completely dark other than the flashlights or glow sticks we carried, and the water reached up to his hips. Jacob's smile when he exited those tunnels was priceless!
The other significant event was his Mitzvah project – a community service requirement for his Bar Mitzvah. Jacob held a lemonade stand at our health club to raise money for NADS. Separately, he helped serve dinner several times to the guests at the DuPage PADS site hosted each Sunday night at Etz Chaim. Jacob really enjoyed picking out the lemonade (he had six kinds, including mango and raspberry) and calling out to the health club members to buy "lemonade for charity, only a dollar." His efforts on that Saturday morning in August raised $225 for NADS! (That's a lot of cups of lemonade, although some people chipped in extra for a great cause!)
On October 20th, Jacob awoke early and was clearly nervous but determined to make it "the best day ever" (one of his many expressions which he has picked up from popular media, in this case from Disney's "Phineas & Ferb" show). Perhaps the hardest part of the day was sitting through an hour of photos before the service began, but thankfully he got some I-Pad breaks during that stretch. When he got dressed that morning and put on his new suit, tie and shiny new shoes, we wondered how long he'd be able to keep that outfit on, since he loves to dress up but will typically pull off the tie and new shoes before too long. Impressively, he wore the entire outfit not only throughout the service but also throughout the three-hour party that afternoon!
Looking back, Jacob likely achieved his goal of making it the best day ever! He led the service beautifully and was clearly the star of his party (which appropriately had a movie theme in which a different favorite movie was highlighted at each table), including doing an impressive dance when he was introduced at the start of the luncheon and being lifted on a chair during the traditional "hora" dance.
Jacob's religious education is far from over. Our challenge now is to work with the staff at Etz Chaim to adapt his religious school program which continues through tenth grade confirmation. We are thankful that Jacob has been welcomed into the Jewish community, and that he is generally enthusiastic about learning and practicing the tenets of his religion. Mazel tov, Jacob!